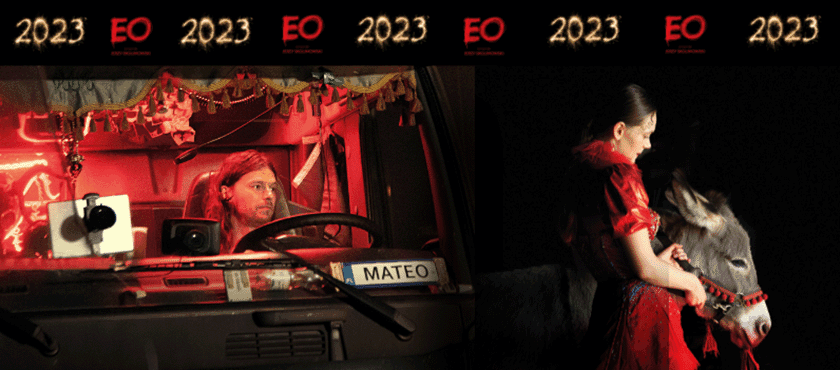 Oscar nomination for "EO"
We are thrilled to announce that co - financed by Polish Film Institute "EO" is nominated for an Oscar.
Jerzy Skolimowski is the director of the film and "EO" which is among the five titles nominated for the American Academy of Motion Picture Arts and Sciences Award in the Best International Feature Film category. The 95th Academy Awards will take place on March 12, 2023.
The film "EO" had its world premiere in the Main Competition in Cannes, where it received the Jury Prize. It was also presented at festivals in Toronto and Gdynia, and opened New Horizons in Wrocław. Jerzy Skolimowski was awarded the Ribera del Duero award for the best director at the festival in Spanish Valladolid, as well as the European University Film Award for his film. The picture won the Arab Critics' Award for Best European Film. In turn, Paweł Mykietyn, the author of the music for this Polish-Italian co-production, received the European Film Award and the Cannes Soundtrack Award. The soundtrack to "EO" was also nominated for the 13th Hollywood Music in Media Awards (HMMA) in the category of independent foreign language films.
The film was highly appreciated by the New York Film Critics Circle (award for the best international film), the Los Angeles Film Critics Association (award for the best foreign language film, for the best cinematography by Michał Dymek and second place for music) and the National Association of Film Critics from the USA (award for for the best foreign language film and for the best cinematography). The Polish candidate for the Oscar was also among the five best international films of the American National Board of Review, and the French Cahiers du Cinema ranked it third on its list. In turn, the journalist of "The New York Times" recognized the Polish-Italian "EO" as the best film that was presented to the world audience in 2022.
"EO" is the story of a donkey in an increasingly complex reality. Passed from hand to hand, the animal meets both good and bad people on its way. The story is a film allegory, and the title of the film refers to the sound that donkeys make.
The co-author of the film's script is Ewa Piaskowska, along with Jerzy Skolimowski. The cinematographers are: Michał Dymek, Michał Englert and Paweł Edelman, the production manager is Tomasz Morawski, and Agnieszka Glińska is responsible for editing. The cast of the film included Lorenzo Zurzolo, Sandra Drzymalska, Mateusz Kościukiewicz and Tomasz Organek. The producers of the film are Skopia Film (Poland) and Alien Films S.R.L. (Italy), and the co-producer of the Warmińsko-Mazurski Film Fund.
We are keeping ur fingers crossed for "EO" and can't wait to see the filmmakers in Dolby Teater in March.